Sports injuries can be classified as either traumatic or overuse injuries: traumatic injuries usually occur in contact sports such as football and rugby, while overuse injuries occur more gradually, and are caused by repetitive movement in a specific part of the body. This is seen in runners, who often suffer from injuries in the knees and ankles. The most common sports injuries are to ligaments (sprains), injuries to muscles (strains) and injuries to bones (fractures and stress fractures), and are the consequence of abnormal stress placed to tendons, muscles, joints and bones.
Non surgical treatments
This includes rest, physical therapy, and medications or injections that can reduce inflammation, which is one of your body's normal reactions to injury or disease. In an injured or diseased shoulder joint, inflammation causes swelling, pain, and stiffness. If you are in a hurry to recover, whether you are keen to get back to training or are in too much pain to wait, book a consultation to see how non-surgical treatment can speed up your recovery and minimize your pain.
Surgical treatments including Arthroscopy
If you have a painful condition that does not respond to conservative treatment your doctor may recommend surgery. Arthroscopy is a surgical procedure used to diagnose and treat joint problems; it involves a doctor looking inside your joint by inserting a narrow tube through a small incision. This tube is attached to a fiber-optic video camera which transmits the view inside the joint to a high definition video monitor. Doctors are even able to repair certain kinds of joint damage during the arthroscopy, by inserting pencil-thin surgical instruments through small incisions.
There are arthroscopies of all major joints: knee, hip, shoulder, wrist, ankle .The most common is arthroscopy of the knee. And with his years of experience, our Orthopedic surgeon Dr Miodrag is the safest pair of hands for this kind of procedure.
Check out our specialist doctor's profile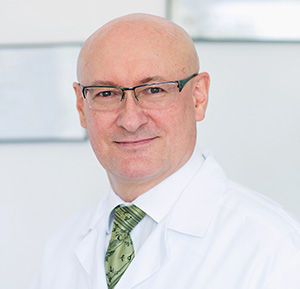 Dr. Miodrag Milenkovic
Specialist Orthopedic Surgery and Trauma
Fluent in English, Serbian and French, Dr Miodrag has taken his expertise in countries such as UK, Zimbabwe and his native Serbia, before relocating to the UAE. A Specialist in Orthopedics and Traumatology, he was Specialist Orthopedic Surgeon and acting Consultant at Al Ain Hospital from October 2004 to October 2012 before becoming the Orthopedic Surgeon for Head Trauma services at Al Noor Hospital in 2012.