A person can have a gummy smile, which causes their smile to look less than perfect. That is why people take gummy smile treatment to fix this issue. Treating gummy smile with Botox is simpler than other alternatives.
This page discusses how this new technique works and how much a person has to pay for it.
What is a Gummy Smile?
Excessive gingival display or gummy smile refers to a condition where too much gum tissue shows above the top teeth when a person smiles.
It is possible to overcome this issue and you do not necessarily have to undergo surgery because a non-surgical option is available.
Before we discuss possible solutions, let's first have a look at the causes.
Causes
There can be a variety of reasons for a gummy smile but it often occurs due to the following reasons:
The strong upper lip muscles.

The size of the gums is larger than normal.

The teeth are small compared to the jaw's size.

The size of the upper lip is shorter than normal.

The size if the front teeth are shorter than normal.

Vertical maxillary excess or an overgrowth of the upper jaw.
Gummy Smile Treatment
Surgical and non-surgical options are available to fix this important problem. In gummy smile surgery, a dental surgeon removes extra gum tissue to give the area a proper shape.
If you would rather like to have non-surgical treatment, you may qualify for our gummy smile Botox. Gummy smile Botox treatment relaxes such strong muscles to enhance the appearance.
Why Botox injections for this problem? Please note that gummy simile does not always occur due to smaller teeth or longer gum tissues, it can also occur due to strong upper lips muscles.
Benefits
Taking gummy smile treatment in Dubai can bring many benefits for the person.
There are no major risks and side effects.

The smile of the person improves.

The person feels much better with this boost up.

This treatment does not come with any downtime.
Candidates
A person with a gummy smile can be a good candidate for Botox treatment. If you have a gummy smile and want to improve your smile experience, you should visit our dental surgeon.
Side Effects
Gummy smile with Botox in Dubai is a non-surgical and minimally invasive treatment and does not cause much harm to the treatment area.
Pre-Op Care and Aftercare
It is a non-surgical and minimally invasive treatment and there is no need to follow many instructions before and after having it.

Cost
This depends on each individual case and will be quoted at the time of consultation.
Consult an Expert
You might be a good candidate for this treatment and one of our dental surgeons can evaluate if you visit us for a brief period. You can be the right candidate and our rates are market competitive.
You can get more information about this topic by visiting our doctor. Before you visit, please book an appointment online to save your time.

Check Out Our Specialist's Profile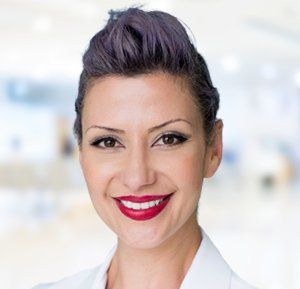 Dr. Sofia Aravopoulou
A member of the World Federation of Lasers in Dentistry and the International Society of Laser Dentistry amongst others, Dr Sofia is fast becoming a name-to-know in the world of dentistry. In fact, Dr Sofia's mission is to create beautiful healthy smiles that will reflect her patients' happiness to the world - and her expertise in Digital Smile Design (DSD) is testament to her ethos. Dr Sofia approaches every person as an individual and uses her knowledge and expertise as well as her personal care to exceed the needs and expectations of each one of…
Read more
Dr. Rasha AlMubarak
Originally from Kuwait, Dr Rasha Al Mubarak obtained her Specialty Certificate in Orthodontics & Dentofacial Orthopaedics and Master of Science degree in Oral Sciences at the University of Illinois in Chicago in 2005, subsequently becoming a delegate at the world federation of orthodontist council. She has worked as an orthodontist for the past 14 years and has previously been the Director of Orthodontics at Boston University - Dubai Healthcare City. Dr Rasha's mission is to improve the quality of life, enhance self-confidence and promote outstanding smile and facial aesthetics through orthodontics and offers the full…
Read more