The Invisalign Treatment aims at aligning the asymmetric teeth thereby delivering a better smile experience. Continue reading to know the cost, benefits, results, side effects, procedure, and more.
What is Invisalign Treatment?
In this age of perfect pearly whites on models and celebrities, those with less-than-perfect teeth can feel self-conscious and second-rate. Whether you didn't have braces as a child and now long for straighter teeth, or whether an accident as an adult has left you misaligned, the thought of highly visible, old-fashioned braces – as an image-conscious teen or professional adult in particular – may fill you with dread.
But now there is another way you can achieve that perfect smile, without the indignity of traditional braces. Along with other dental services, we also provide Invisalign in Dubai, a discreet – almost invisible – orthodontic treatment, which means you can get on with your life without embarrassment, whilst achieving the smile of your dreams.
Results and Benefits
The Invisalign boasts multiple benefits over rival treatments, namely:
Discreet: Invisalign's clear plastic design enables you to remain confident with your smile even when undergoing treatment to straighten your teeth.
Comfortable: Unlike traditional metal braces, Invisalign will not irritate mouths and gums, and as they are not attached to your teeth permanently, they are far less painful.
Convenient: The removable aligners can be taken out when eating, or for short-term special occasions when you may wish to showcase your natural smile.
Hygienic: The removable feature also ensures no trapped food remains in the aligners and allows regular brushing and flossing to continue.
Effective: Teeth will begin to realign immediately, with noticeable improvements continuing week by week.
Transparent: Unlike other brands of aligners, they are transparent and no one will be able to see them.
Safety: These aligners are made from patented SmartTrack material, which is more comfortable and provides a better fit. Moreover, this material is hygienic and free of health risks.
Who is a Candidate?
The following people can be good candidates for this treatment;
Business professionals.

Teenagers

Those with crowded teeth.

Those with teeth spacing issues.

Those who struggle with oral hygiene.
What is the Aim of Treatment?
The Invisalign Treatment aims at the following;
To make the teeth attractive.

To align the asymmetric teeth.

To deliver a better smile experience.
How is the Treatment Performed?
After an initial consultation with our specialist orthodontist Dr. Rasha, one of the most experienced providers of Invisalign in Dubai, a customized treatment plan will be created for you. This will begin with x-rays, pictures, and impressions that will ensure an accurate 3D image of your teeth. From here, Dr. Rasha can detail the exact movements your teeth will go through, as well as the predicted overall length of treatment.
How to Prepare for the Treatment?
It is a groundbreaking FDA-approved technology that has been opted by millions all over the world. It is a safe and effective way to align the asymmetric teeth. You will visit the dental surgeon for the initial checkup. Your doctor will create a unique, digital treatment plan that maps out the exact movements of your teeth.
Post-Op Care and the Recovery Time
Once you receive your custom-made aligners, the treatment can begin. Each aligner will last approximately two weeks and must be worn 20-22 hours each day, leaving sufficient time for eating, brushing and flossing. Dr. Rasha will monitor your progress every six weeks throughout your treatment, to ensure that each stage of improvement is being reached, but it is vital to ensure you:
Keep the aligners clean all the time.

Never use hot water to wash the aligners.

Use the prescribed solution to clean the aligners.

Do not forget to brush the teeth after every meal.

Cost of Invisalign Treatment
The cost of Invisalign varies between patients so why not contact us if you want to know the exact treatment price in your case.
Schedule a Consultation
If you need to know more, do not hesitate to contact us anytime. We offer an online consultation. Just call us or fill the online form now and book your online consultation.

Check Out Our Specialist's Profile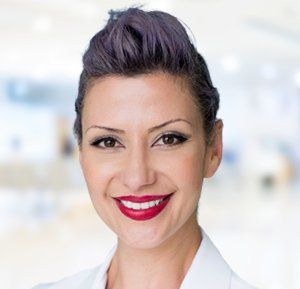 Dr. Sofia Aravopoulou
A member of the World Federation of Lasers in Dentistry and the International Society of Laser Dentistry amongst others, Dr Sofia is fast becoming a name-to-know in the world of dentistry. In fact, Dr Sofia's mission is to create beautiful healthy smiles that will reflect her patients' happiness to the world - and her expertise in Digital Smile Design (DSD) is testament to her ethos. Dr Sofia approaches every person as an individual and uses her knowledge and expertise as well as her personal care to exceed the needs and expectations of each one of…
Read more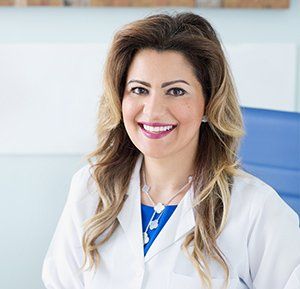 Dr. Rasha AlMubarak
Originally from Kuwait, Dr Rasha Al Mubarak obtained her Specialty Certificate in Orthodontics & Dentofacial Orthopaedics and Master of Science degree in Oral Sciences at the University of Illinois in Chicago in 2005, subsequently becoming a delegate at the world federation of orthodontist council. She has worked as an orthodontist for the past 14 years and has previously been the Director of Orthodontics at Boston University - Dubai Healthcare City. Dr Rasha's mission is to improve the quality of life, enhance self-confidence and promote outstanding smile and facial aesthetics through orthodontics and offers the full…
Read more