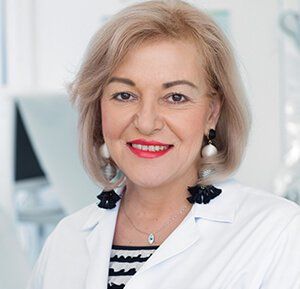 Dr. Maria is an Obstetrics and Gynaecology Specialist with more than 25 years of experience, the past five of which she has practiced in the UAE where she has developed a loyal list of patients.
After studying at the University of Texas, she was awarded a scholarship for the duration of her medical studies for her outstanding performance, graduating with as an MD from UHSA.
Following this, she received special training In Urogynecology – Urodynamics, Colposcopy, Infertility, Endocrinology and Menopause at Kings Mill Hospital in the UK, before working with Prof. K. Nicolaides at the renowned Harris Birthright Research Centre for foetal Medicine, where she performed ultrasounds for the prenatal diagnosis of congenital abnormalities and digital markers of chromosomal abnormalities. She completed her specialist training at the lppokrateio General Hospital in her native Greece where she taught trainee doctors, general practioners and midwives. She was also a partner at Genesis Obstetrics and Gynaecology Specialty Clinic where she performed all major Gynaecological Procedures, Instrumental Deliveries and Caesarean Sections. This brilliant physician also founded the Centre for Obstetrics and Gynaecology at BRMS.
Dr. Maria's special interests include colposcopy for cervical cancer prevention, reconstructive surgery of the vulva, as well as vaginal bleeding diagnosis and treatment.
Education
MBBS, MD, MRCOG
Board Certification & Credentials
Degree in Medicine UHSA
Specialty degree in Obstetrics / Gynaecology
Member of the Obstetrics / Gynaecology Society in Greece
specialized training in Foetal Ultrasound, UK
Special Expertise & Services
Gynaecological and Obstetrics Ultrasound
Reconstructive Surgery / Laser of the Vulva (vagina and labia)
Antenatal – Postnatal follow-up
Premenstrual syndrome (PMS)
Abnormal Vaginal Bleeding – Heavy Periods
Menstrual Pain
Ovarian Cyst and PCOS
Uterine Fibroids
Endometriosis
Cervical Smear
Colposcopy and Cervical Biopsy
STD and Sexual function problems
Vaccination to prevent cervical Cancer
Gynaecological Surgery – Hysteroscopy
Breast Exam and Ultrasound
Miscarriage and recurrent pregnancy loss
Normal and high risk pregnancy follow up
Normal and instrumental deliveries
Caesarean Sections
Premenopausal and anti-aging therapy
(
15
votes, average:
3.73
out of 5)
Loading...