Euromed Clinic Center prides itself on ensuring that everyone is in the best possible health, and this means that there are dedicated departments including one for women's health. Because of our expertise, we rank among best gynecology clinics in Dubai. For many women, pregnancy is considered as the happiest and beautiful time of their whole life. Unfortunately for some of the women, conceiving a child is not an easy task. But with our advanced treatment procedures and the guidance of our expert gynecologist. Dr. Maria Nikolopoulou can help childless couples achieve their dream of parenthood. Our Obstetrics and Gynecology clinic focuses on maintaining the health of the female reproductive system. This includes preventive and primary care, menopause, pregnancy & delivery, and management of surgical and medical procedures for every kind of gynecological issue.
How to know which treatment you need?
If you have any symptom which you are concerned about, you should let your doctor know. On the other hand, if you just need a regular checkup or specific treatment, then Dr. Maria Nikolopoulou and her team offer screening tests. These tests will help to let you know if you are going through any health issue or not.
Preoperative Instructions
Preoperative instructions will be provided on the basis of the test that you need. These instructions may vary from one person to the other. However, you need to follow these instructions as it will ensure you get the best possible results.Here are some guidelines:
Wearing comfortable and loose clothing when you visit your doctor to get an assessment.

Don't put yourself under pressure or stress about the test.

Take any prescribed medicines regularly as per instructed by your doctor.
Procedure
Also, the procedure for every test is different. Some of the common aspects include your medical history, knowing your expected results, what are your presenting complaints, and other related aspects. When it comes to the confidentiality, you don't need to be worried about it when you are seeking treatment from our reputable clinic. You can also get a brief regarding the procedure by our doctor.
Postoperative Care
After having a procedure, our doctor will guide you further if you need another treatment and if you don't require a treatment procedure, you may be given preventive measures. It is necessary to follow these guidelines provided by our doctor so that you can reap the benefits. These guidelines may differ from one individual to another on the basis of your individuality.
Why Should You Get Our Services?
We have board-certified and expert doctors, who know latest procedures. In addition, our surgeons have special training. We focus on providing best services by using advanced tools and cutting-edge technology.
Check out our specialist doctor's profile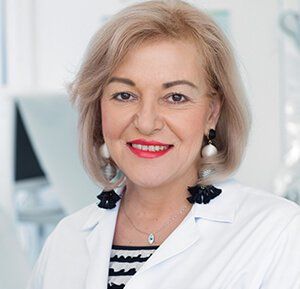 Dr. Maria Nikolopoulou

Obstetrics and Gynaecology Specialist
Dr. Maria is an Obstetrics and Gynaecology Specialist with more than 25 years of experience, the past five of which she has practiced in the UAE where she has developed a loyal list of patients. After studying at the University of Texas, she was awarded a scholarship for the duration of her medical studies for her outstanding performance, graduating with as an MD from UHSA. Following this, she received special training In Urogynecology – Urodynamics, Colposcopy, Infertility, Endocrinology and Menopause at Kings Mill Hospital in the UK, before working with Prof. K. Nicolaides at the…
Thanks for the good service. I will visit the Clinic soon. Thank you very much. – Ayesha
We are very satisfied with Dr. Maria Nikolopoulou She is very professional doctor. We trust her experience. – Gulara A.
Very professional, intelligent doctor. I'm happy to meet Dr. Maria Nikolopoulou, most beautiful inside and out doctor. – Nargiz S.