The vagina is a sensitive organ in that can bleed due to many reasons. In some cases, the bleeding can be disregarded as non-serious; in other cases,however, the person should be worried. After a thorough evaluation, vaginal bleeding can be fixed using vaginal bleeding treatment. Continue reading to discover what an abnormal vaginal bleeding treatment in Dubai is like.

What is Abnormal Vaginal Bleeding?
For a woman, the vagina is an important organ in the body. This intimate area can suffer from different problems that may cause a person to become worried and sometimes depressed. Any involuntary discharge can cause major problems for a woman. The question is; when is bleeding normal and when it is not. If a woman experiences vaginal bleeding after menopause, between periods, during menstruation, and after sexual intercourse, it would be termed as abnormal bleeding. Menstrual periods that are longer or heavier than normal are known as abnormal periods. If a person is suffering from such problems, she should visit the doctor at the earliest possible time for a check-up.

Diagnosis the Underlying Causes
In general, the doctor performs a pelvic and physical exam to find out the reasons for abnormal bleeding. In some cases, the doctor may also perform thyroid function analysis, blood test, and hormone levels. By doing so, the doctor will be able to find out if the woman is infected with a sexually transmitted disease or pregnant.
To diagnose the condition, the doctor may consider the following imaging tests:
Pelvic MRI

Pelvic ultrasound

Endometrial biopsy

Transvaginal ultrasound

Ultrasound of the uterus
Symptoms of Abnormal Vaginal Bleeding
A person may need to consider a vaginal bleeding treatment in case of the following symptoms:
Bleeding after menopause

Excessive or heavy bleeding

Bleeding after sexual intercourse

Vaginal bleeding during pregnancy

Prolonged periods (more than 7 days)

Spotting or bleeding between periods

Menstrual periods occur too frequently
Abnormal Vaginal Bleeding Treatment
Once, the actual reasons for the problem are discovered, the time for the treatment comes. The experts at the Euromed Clinic Center Dubai have different techniques to treat this condition. Again, the choice of treatment depends on the real reasons for the problem. Generally, doctors prescribe medication or recommend one of the following:
Birth control pills

Surgical intervention

Endometrial ablation

Dilation and curettage (D&C)

Uterine fibroid embolization

Hormone-releasing intrauterine devices
Contact us to know more about abnormal vaginal bleeding treatment in Dubai.
Benefits of Abnormal Vaginal Bleeding Treatment
A timely diagnosis and treatment can ensure a person is free from more complicated health risks. Some of the notable benefits are discussed below:
The person becomes healthier

The person will become happy and confident.

The person will no longer have abnormal bleeding.

The person will now be able to focus on important problems.

The person will not embarrass due to bleeding at a public place.

The routine life of the person will not get affected due to treatment.

Abnormal Vaginal Bleeding Treatment Cost
The abnormal vaginal bleeding treatment cost varies from person to person due to various factors. After a thorough check-up, one of our experts guides the patient about the cost. If you are interested in knowing the actual cost of the vaginal bleeding treatment in your case, please feel free to book an appointment and speak to our doctor.
Book an Appointment Now
If you want to learn more about vaginal bleeding evaluation, please contact the Euromed Clinic Center Dubai. To learn more about abnormal vaginal bleeding treatment in Dubai, get in touch with us.
Please do not hesitate to book an appointment by calling our number or filling the short online form on this page.
You can also use our chat box to start a quick chat.
Check Out Our Specialist's Profile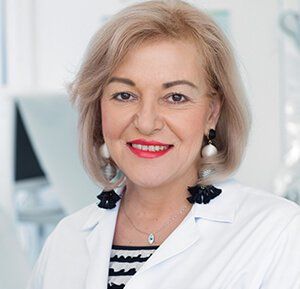 Dr. Maria Nikolopoulou
Dr. Maria is an Obstetrics and Gynaecology Specialist with more than 25 years of experience, the past five of which she has practiced in the UAE where she has developed a loyal list of patients. After studying at the University of Texas, she was awarded a scholarship for the duration of her medical studies for her outstanding performance, graduating with as an MD from UHSA. Following this, she received special training In Urogynecology – Urodynamics, Colposcopy, Infertility, Endocrinology and Menopause at Kings Mill Hospital in the UK, before working with Prof. K. Nicolaides at the…
Read more