Whether your pregnancy is going fine and you are likely to have normal delivery; still, there are chances of a caesarian section or C-section. Understanding caesarean sections is important for pregnant females because this option may be needed in case of emergency. Here is what they are how they work. Please continue reading to learn more about caesarean sections.

What is a Caesarean Section?
C-section or caesarean delivery or caesarean section is a surgical technique to deliver the baby through abdomen and uterus by making incisions. It is not a preferred choice for most of the women but opting it may become necessary in some cases.

When labor starts, some women may develop complications that can hurt baby and/or mother. In such cases, performing C-section becomes necessary, rather than optional. By learning about it, women can make themselves ready for this procedure.
When Caesarean Section Is Performed?
Sometimes, caesarean delivery becomes necessary due to some reasons. The gynecologists, obstetrician, or midwife can prefer it over vaginal delivery in the following cases:
The baby is in distress

The labor has stopped

There is a health concern

Umbilical cord is prolapsed

There is a mechanical obstruction

If there are more than one babies

The baby is in an abnormal position

There is a problem with the placenta

The person has had a C-section before
Most women are afraid of C-section but some women prefer it to avoid possible complications of vaginal birth and to get benefits of planned delivery. However, if a woman looks forward to having multiple pregnancies, C-section might not be a good option as it can cause placental issues. No matter what option a woman is interested in, the doctor must be consulted to know what is better for the baby.
Risks of Caesarean Section
As it is a surgical procedure, there are some avoidable risks:
Risks to the mother:
Infection

Blood clots

Surgical injury

Wound infection

Reactions to anesthesia

Postpartum hemorrhage

Increased risks during future pregnancies
Risks to the baby include:
Surgical injury

Breathing problems
Preparing for Caesarean Section
If a woman is going to have a caesarian section, the anesthetist must be consulted beforehand to understand possible anesthesia complications. To avoid some complications, different blood tests might be needed before this surgery.
Even though everything seems fine and vaginal birth is scheduled, it is good for the pregnant woman to discuss the possibility of surgery with the doctor if something wrong happens.
A pregnant woman should ask all related questions ahead of delivery time. In case of caesarean delivery, the woman will have to take proper rest until complete recovery. It is better to decide whether the woman is going to have more babies or not.
Before and After Expectations
Here are some details about the procedure:
Before the Procedure
The delivery procedure varies from person to person. Generally, the following steps are involved:
At Home

: Take a shower with an antiseptic soap. Do not shave the pubic area; if there is unnecessary hair, they will trim it.Remove all traces of nail polish completely, including gel-based polishes such as shellac and gelish.

At the Hospital

: The abdomen will be cleansed and urine from the bladder will be collected. IV lines will be placed to give medication and fluid.

Anesthesia

: In most cases, local anesthesia is administered to numb the lower part. In some emergency cases, general anesthesia might be required.
During the Procedure
To deliver the baby, the doctor will make abdominal and uterine incisions:
Abdominal incision

Uterine incision

Delivery
After the Procedure
After a caesarian section, the patient has to stay at the hospital for a few days to get proper care. The woman will be able to walk and breastfeed the baby.

After Reaching Home
Experiencing fatigue and discomfort are common after this surgery. The patient should:
Avoid sexual intercourse

Take it easy; Do not worry

Take medication for pain relief
Incision sites should be kept clean and the doctor should be consulted if the following occur:
Fever

Swelling

Discharge

Incision is red

Heavy bleeding

Worsening pain
The doctor should be consulted if there is an unusual activity.
Please book an appointment if you want to learn more.
Book an Appointment Now
Whether your doctor is expecting normal delivery, it is valuable to learn about caesarean sections because it may be a possibility. The gynecologists or obstetricians at the Euromed Clinic Center have the latest knowledge and training to handle normal and C-section deliveries.
What is on your mind? Please book an appointment by calling us or filling the short online form if you want to learn more.
Check Out Our Specialist's Profile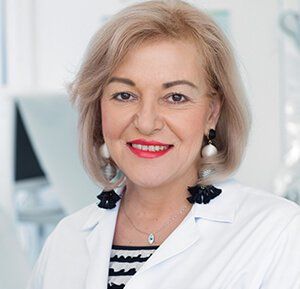 Dr. Maria Nikolopoulou
Dr. Maria is an Obstetrics and Gynaecology Specialist with more than 25 years of experience, the past five of which she has practiced in the UAE where she has developed a loyal list of patients. After studying at the University of Texas, she was awarded a scholarship for the duration of her medical studies for her outstanding performance, graduating with as an MD from UHSA. Following this, she received special training In Urogynecology – Urodynamics, Colposcopy, Infertility, Endocrinology and Menopause at Kings Mill Hospital in the UK, before working with Prof. K. Nicolaides at the…
Read more