Colposcopy Treatment in Dubai
Have you ever heard of an abnormal Pap smear? If you hear or know about it then you may also hear about Colposcopy that is utilized as a treatment. Well, it is not necessary to get this procedure to treat your abnormal Pap smear in all the cases. Hence, you should know the criteria when you need this treatment, what preoperative care you should do, what the procedure will be, and what about aftercare. The purpose of writing this piece of information is to let you know these important aspects. Read it till the end to know details!
What Is Colposcopy?
A colposcopy refers to a procedure that is used to assess your vulva, vagina, and cervix. In fact, it is a magnifying instrument that helps in detecting if any problem occurs in your vagina or cervix. Now, you may wonder when you need to get this procedure. Usually, your doctor recommends it when he finds something abnormal in your pelvic and Pap smear test.
For What It Is Used?
The Colposcopy is used to diagnose;
When To See Your Doctor?
You need to immediately visit your doctor if you have noticed any of these symptoms.
Preparation
Before getting the procedure, you need to prepare yourself. During your initial consultation, our doctor will let you know if you need any special preparation. Hence, following are some of the basic steps.
How Does It Work?
Almost 15 minutes are required to perform the procedure. A device is inserted into your vagina to screen its current situation. After that, the colposcope is placed next to your vulva and your vagina is revealed in a bright light so that it becomes easy for your doctor to examine the area. There is the possibility that a vinegar solution is applied to the targeted area to highlight the doubtful cells. A biopsy is recommended in case of the availability of suspicious areas. Furthermore, in case of getting a biopsy, the pain depends on the kind of tissue that is going to be removed.
Here, you need to know that 2 kinds of biopsies are available. The one is cervical while the other is named as a vaginal biopsy.
Aftercare
Aftercare is really important to get the best results from a procedure. Our doctor will let you know if you need to follow any specific instructions. Also, you need to follow-up as per requirement of your doctor. You have to take the prescribed medicines regularly as well as follow instructions for prevention as instructed by your doctor.
Results
Before leaving the clinic, you should ask your doctor when you will get results. Our doctors will guide you in this regard.

Schedule A Consultation
Scheduling a consultation prior to getting a treatment is always recommended by the medical experts and our board-certified doctors. You may wonder, why scheduling an initial consultation is such important. Actually, when you have some presenting complaints or you have noticed some symptoms, you visit your doctor and he will get your medical history. It is essential to provide your accurate medical history as it helps your doctor to analyze your actual problem. Your expected results are discussed, and also we clear all your concerns and queries. After that, he will prescribe some screening tests that are necessary to know if you have an issue or not. So, the initial consultation helps both doctor and the patient to analyze the actual issue.
What are you waiting for?? If you have any doubt, then go ahead and get benefit from our initial consultation services. You need to be very careful while selecting your doctor as the skills of your doctor matters a lot. So, don't make a decision in hurry and do appropriate research prior to finalizing your selection. Here, at Euromed, all of our doctors are board-certified and they have extensive experience in dealing with different kinds of patients successfully! You shouldn't waste your precious time anymore. We have made it easy for you to make your appointment. Simply fill the following form and we will contact you back soon!

Check Out Our Specialist's Profile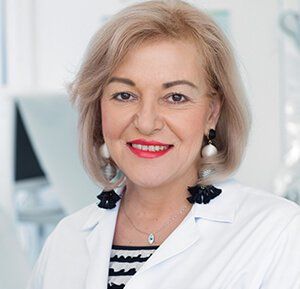 Dr. Maria Nikolopoulou
Dr. Maria is an Obstetrics and Gynaecology Specialist with more than 25 years of experience, the past five of which she has practiced in the UAE where she has developed a loyal list of patients. After studying at the University of Texas, she was awarded a scholarship for the duration of her medical studies for her outstanding performance, graduating with as an MD from UHSA. Following this, she received special training In Urogynecology – Urodynamics, Colposcopy, Infertility, Endocrinology and Menopause at Kings Mill Hospital in the UK, before working with Prof. K. Nicolaides at the…
Read more