Different jaw defects cause problems such as bad bite, tooth wear, tooth breakage, malocclusions, and more. Orthognathic surgery is also known as corrective jaw surgery. In simple words, it is a jaw procedure where different jaw bone conditions are fixed. Here is what orthognathic surgery in Dubai is like. Continue reading to learn more about it.
What is Orthognathic Surgery?
An orthognathic surgery is a group of treatments that can correct dentofacial irregularities or misalignments of the jaws. The person experiences one or more chewing, swallowing, or breathing problems due to jaw bone irregularities.
To deal with such issues, dental surgeons have come up with different solutions. Many problems faced by the jaw bone or temporomandibular joint (TMJ) can be fixed using orthognathic surgery. The issues that cannot be fixed using braces are often fixed with an orthognathic surgery in Dubai.
Who Should Take Orthognathic Surgery?
As mentioned above, many jaw bone and TMJ defects can be fixed using an orthognathic surgery.
There are many issues that can be addressed using it; some notable ones have been enlisted below:
Open bite

Birth defects

Protruding jaw

Receding lower jaw and chin

Involuntary mouth breathing

Injury or trauma to the face/jaw

Chronic jaw or jaw joint (TMJ) pain

Pathology or tumor affecting the jaw

The inability of lips to come together without straining
How Does Orthognathic Surgery Work?
It is going to be a surgical treatment where incisions and stitches may be involved. The patient is not going to feel pain or experience discomfort during the procedure; thanks to the local anesthesia. It is true that the treatment site will get a bit hurt but the person will be alright soon.
The procedure may differ for different people because this technique is used to address a variety of jaw bone and TMJ concerns. In some orthognathic surgeries, some part of the jaw bone may need to be removed to reposition the jaw bone. It might be followed by applying plates and screws to secure the bone in place. Book an appointment to learn more about it.
Benefits of Orthognathic Surgery
The procedures that are performed to correct jaw problems have plenty of benefits. Some notable benefits have been enlisted below:
There are no major health risks involved.

The person will feel no pain and discomfort.

It fixes different bite and other jaw problems.

There are no major or permanent side effects.
Possible Risks and Side Effects
There is a possibility of certain side effects and risks but an expert dental surgeon knows how to avoid major risk and side effects. Due to this reason, it is crucial to select a qualified and experienced dental surgeon who has been providing orthognathic surgery in the past.
At the Euromed Clinic Center Dubai, we have the leading dentists in the UAE. We will let you know the possible risks and side effects before during the initial consultation. Please book a consultation session to know what risks can be avoided and what cannot be avoided.

Cost of Orthognathic Surgery
As a matter of fact, the nature and scope of orthognathic surgery is different for different people. Due to this reason, orthognathic surgery cost in Dubai varies from person to person. At the Euromed Clinic Center Dubai, the latest and quality treatment is offered at a reasonable cost.
Some insurance policies cover orthognathic surgery. If your insurance company does not cover such dental treatments, you can avail our interest-free treatment financing option if paying the complete price is not feasible. If you want to know how much it will cost in your case, please feel free to visit us.
Do you need more information about orthognathic surgery? Book your appointment now!
Book an Appointment Now
If you are interested in knowing more about the orthognathic surgery in Dubai, please do not hesitate to get in touch with the Euromed Clinic Center Dubai. One of our dental surgeon will answer your questions in a consultation session. Call us or fill the short online form now to book an appointment.
Check Out Our Specialist's Profile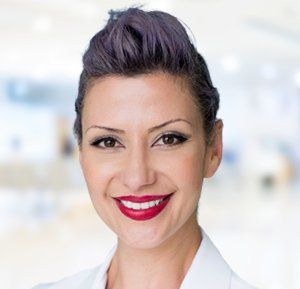 Dr. Sofia Aravopoulou
A member of the World Federation of Lasers in Dentistry and the International Society of Laser Dentistry amongst others, Dr Sofia is fast becoming a name-to-know in the world of dentistry. In fact, Dr Sofia's mission is to create beautiful healthy smiles that will reflect her patients' happiness to the world - and her expertise in Digital Smile Design (DSD) is testament to her ethos. Dr Sofia approaches every person as an individual and uses her knowledge and expertise as well as her personal care to exceed the needs and expectations of each one of…
Read more
Dr. Rasha AlMubarak
Originally from Kuwait, Dr Rasha Al Mubarak obtained her Specialty Certificate in Orthodontics & Dentofacial Orthopaedics and Master of Science degree in Oral Sciences at the University of Illinois in Chicago in 2005, subsequently becoming a delegate at the world federation of orthodontist council. She has worked as an orthodontist for the past 14 years and has previously been the Director of Orthodontics at Boston University - Dubai Healthcare City. Dr Rasha's mission is to improve the quality of life, enhance self-confidence and promote outstanding smile and facial aesthetics through orthodontics and offers the full…
Read more