Aware as we are in this day and age of the trauma of cancer, the word 'tumor' can strike fear into the heart. Yet not all tumors are cancerous. Benign tumors can be removed and do not usually return or spread to other parts of the body. Malignant tumors are cancerous, and therefore much more frightening for patients to deal with, requiring specialist treatment from oncologists.
Once you have had your tumor diagnosed through a series of scans and tests, the best form of treatment can be assessed. If your tumor is benign, it can be treated by our experts here at Euromed, giving you the benefit of the fully holistic and individualized care plan for which we are well known.
How can they be treated?
The treatment of benign tumors is determined by the type of tumor, and its age, size and location. In certain cases, surgery might not be necessary: some tumors can resolve and heal after a fracture, or might stop growing if the patient is near the age of musculoskeletal maturity (i.e. near the age when the bones stop growing). Sometimes, tumors are only discovered by chance in an X-ray, and may require observation for a certain period of time, before a decision regarding treatment is made.
However, for the majority of cases, surgery is required.
How can surgical treatment help with tumors?
Surgery involves removing the tumor, as well as the regeneration of healthy bone at the site of the tumor. In order to grant patients the highest chance of full recovery, it is important for the surgeon to have the knowledge/experience of removing the tumors with minimal trauma to surrounding tissues, as well as in techniques such as bone grafting and skeletal regeneration, and our doctors are outstanding experts in this field.
Usually, patients respond very well to the removal of benign tumors, and the chances of the tumor returning are very low (less than 5%). Make Euromed your clinic of choice for this vital treatment, and give yourself the very best chance of making a full recovery.
Check out our specialist doctor's profile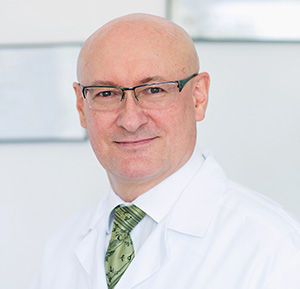 Dr. Miodrag Milenkovic
Specialist Orthopedic Surgery and Trauma
Fluent in English, Serbian and French, Dr Miodrag has taken his expertise in countries such as UK, Zimbabwe and his native Serbia, before relocating to the UAE. A Specialist in Orthopedics and Traumatology, he was Specialist Orthopedic Surgeon and acting Consultant at Al Ain Hospital from October 2004 to October 2012 before becoming the Orthopedic Surgeon for Head Trauma services at Al Noor Hospital in 2012.